EVENTS
Wednesday  July 19, 5:30 – 7:00 p.m.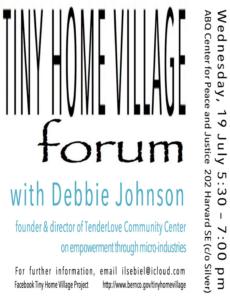 The Ti
ny Home Village Project is proud to announce Debbie Johnson as the
next expert in our speaker forum series. Debbie is a healthcare professional with over twenty years of experience. She founded the TenderLove Community Center in 2013 to teach unhoused and low income women, including survivors of domestic violence and previously incarcerated women, sewing skills and re-enter the job market while providing them with a safe place to be during the day. In this way, the center helps women in three interrelated ways: to recover from trauma and painful past experiences; to break the cycle of homelessness; and to empower them towards a better, stable, and self-sufficient future. Through the small business Sew4Real, the TenderLove students are able to sell items they have made and also learn how to run a small business and find funding. More than thirty students have graduated from the program, each receiving a brand-new sewing machine to get them going. The TenderLove Community Center received the 2015 NMCEH award for most innovative program and a 2015 CHISPA Award from NewMexicoWomen.org.
The Tiny Home Village project felt an immediate resonance with Debbie's focus on empowerment through skills-building and micro-industries and we are looking forward to learning from her experiences.
The Speaker Forum with Debbie Johnson will take place on
Wednesday, 19 July
from 5:30 pm in the Peace Hall at the Albuquerque Center for Peace and Justice situated at 202 Harvard SE on the corner with Silver. The center has a small parking lot on its East side and there is street parking available on Silver and along Harvard and Cornell. There will be light snacks and coffee and tea.
SAVE THE DATE

:  Next GALA: 

February 10, 2018
---
---
Board Meetings are held quarterly at TenderLove's facility on 4th Street and open to the public.
To Find out when our next meeting is scheduled, please call TenderLove at: 505-349-1795
Beginning in June, 2016, the Board will meet Quarterly on the 2nd Saturday of the month.
Any changes to this schedule will be announced here.
---