Check out our Events Page:  We're restarting our monthly sales!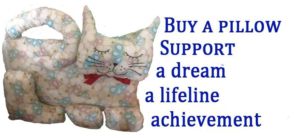 These sales are great for TenderLove and for our students: for any items made by the students with TenderLove materials, the students get 50% and TenderLove gets 50%.  For TenderLove, those funds go immediately back into direct student assistance, such as breakfasts for those pushed out of shelters early in the morning, kitchen and bathroom supplies, and money for gas for those who are ride sharing or running errands for TenderLove.
The August sale is called "More than a Pillow Sale" and it has a double meaning:  we will be selling not only pillows, but also more sewing and craft projects made by out students and volunteers.  The other meaning comes from a promotional flyer we made a few years ago, showing a pillow a student made and describing student made pillows as more than pillows, but also tangible objects that empower each student with a sense of accomplishment, capability and trust.
I hope you'll have a chance to go to the sale Saturday, August 19th (2017) from 10 am to 4 pm.  If you can't go, contact us, and maybe we can make you a custom pillow!
Don't forget, we also do mending and other custom sewing projects.
Corrected to Saturday, 08/18/17 11:15 am AKDST