How to Move New Mexico Forward / published interview with Debbie Johnson, CEO
[Click on photo, below}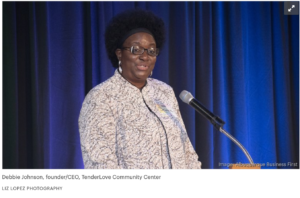 KRQE Highlighted Bank of America's donation to TenderLove for Thanksgiving.  Click here for the story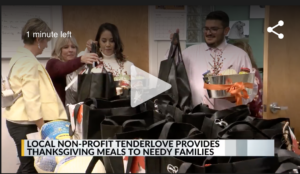 ALBUQUERQUE BUSINESS FIRST AWARD, Nov. 9, 2023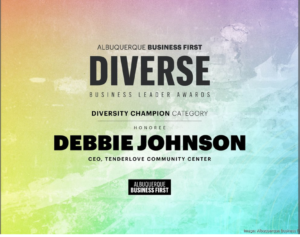 Diversity Champion: Recognizes leaders in New Mexico businesses and organizations who have promoted initiatives, resources and/or community involvement in advancing diversity in their workplace and/or community.
March 23, 2022 Our founder and CEO, Debbie Johnson was among 5 inaugural recipients of the
Damas de Esperanza Award / Women of Hope Award
This award, presented by Representative Melanie Stansbury, was based on recommendations by the New Mexico Congressional District 1 community.
"Many women across our district have made incredible contributions to our communities, often without any recognition of their courage, grit, determination, heart, and their lifelong work across our communities," said Rep. Stansbury. "I was deeply inspired by the stories of all of the women who were nominated for this award who are heroes in their communities, working to create change, support our communities, and working at the cutting edge of their fields, and so much more. I especially enjoyed reading our community nominations and learning about the incredible women across our district, hearing about the work that they lead in our volunteer spaces, in STEM, in education, community service, social work, politics, and so much more."  
Here is the summary given for Debbie's nomination and hard work:
Soon after immigrating to the United States, Debbie experienced winter homelessness. This life experience and the challenges she faced inspired her to found TenderLove Community Center, a nonprofit organization with a mission to help homeless and low-income individuals achieve stable, self-supporting lives for themselves and their families. Spending her career supporting and caring for the district's communities, Debbie has changed the lives of many across New Mexico's First Congressional District, still finding the time to work towards her goal of eventually obtaining a doctorate degree in Public Health. Her passionate leadership has inspired others to volunteer and donate, working hand-in-hand to collaborate with diverse groups to help others to obtain sustainable jobs, stable housing, and basic necessities for themselves and their families.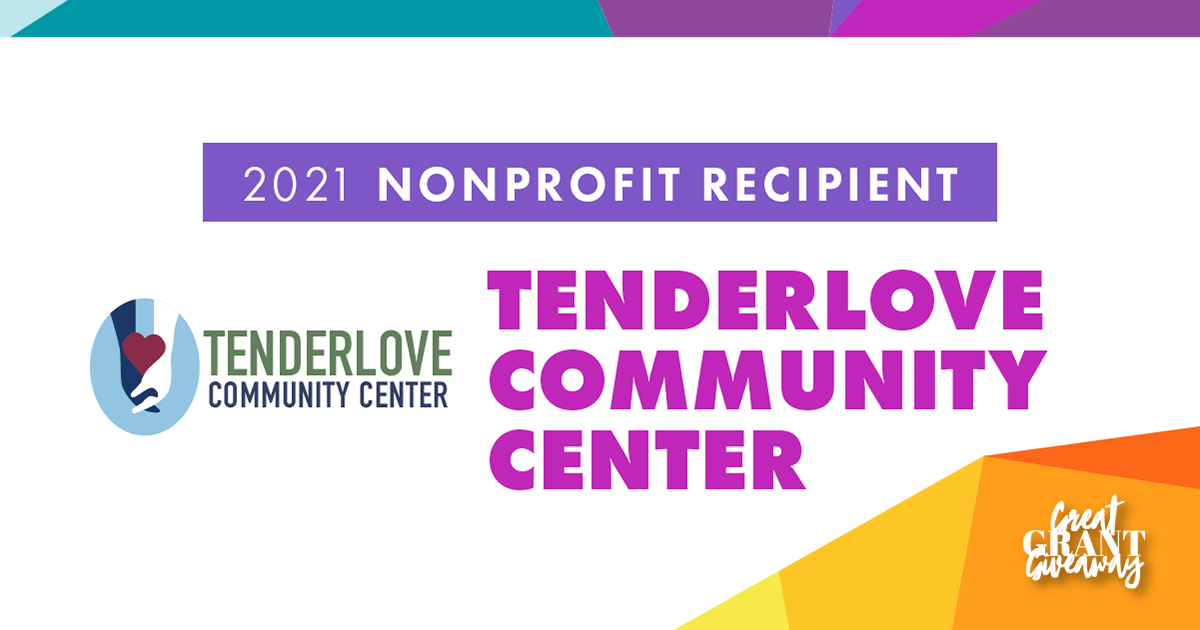 Check out this article in the Albuquerque Journal!
We had a very successful Mending Drive at The Rock at Noon Day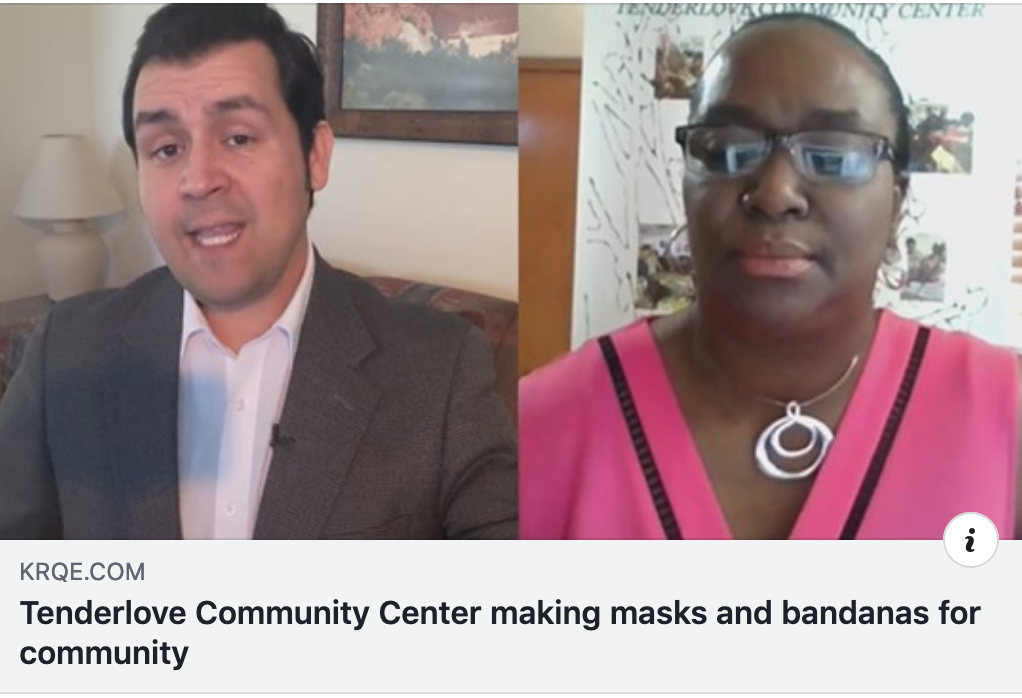 MANY THANKS FOR A MERRY CHRISTMAS FROM ALBUQUERQUE INVOLVED!
Happy Holidays!
The Holidays are often a stressful time; particularly if you are struggling with poverty and homelessness; these businesses made a huge difference by showing they care
AND THANKS TO THE FOLLOWING BUSINESSES FOR THEIR DONATIONS OF WONDERFUL GIFTS FOR OUR CLIENTS!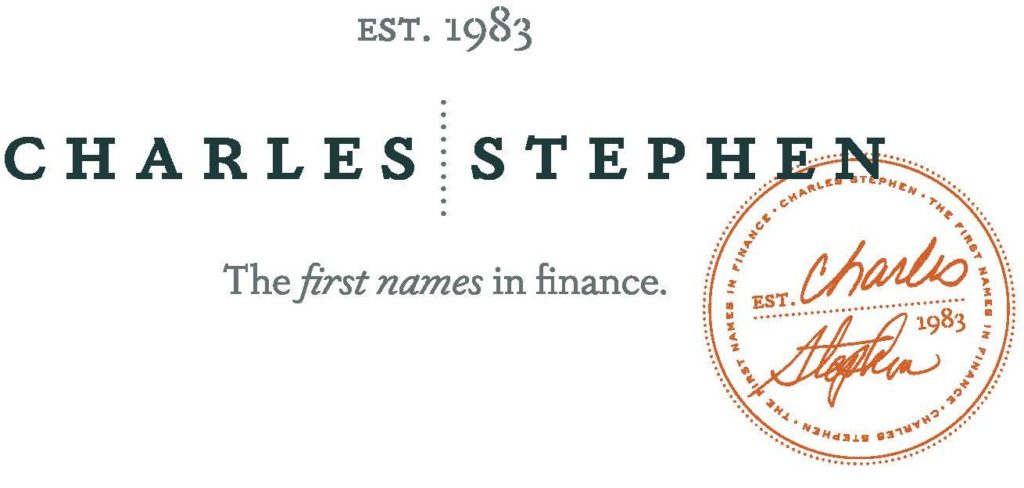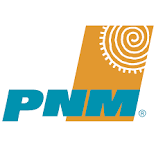 Firm Logo – bold 04.16.19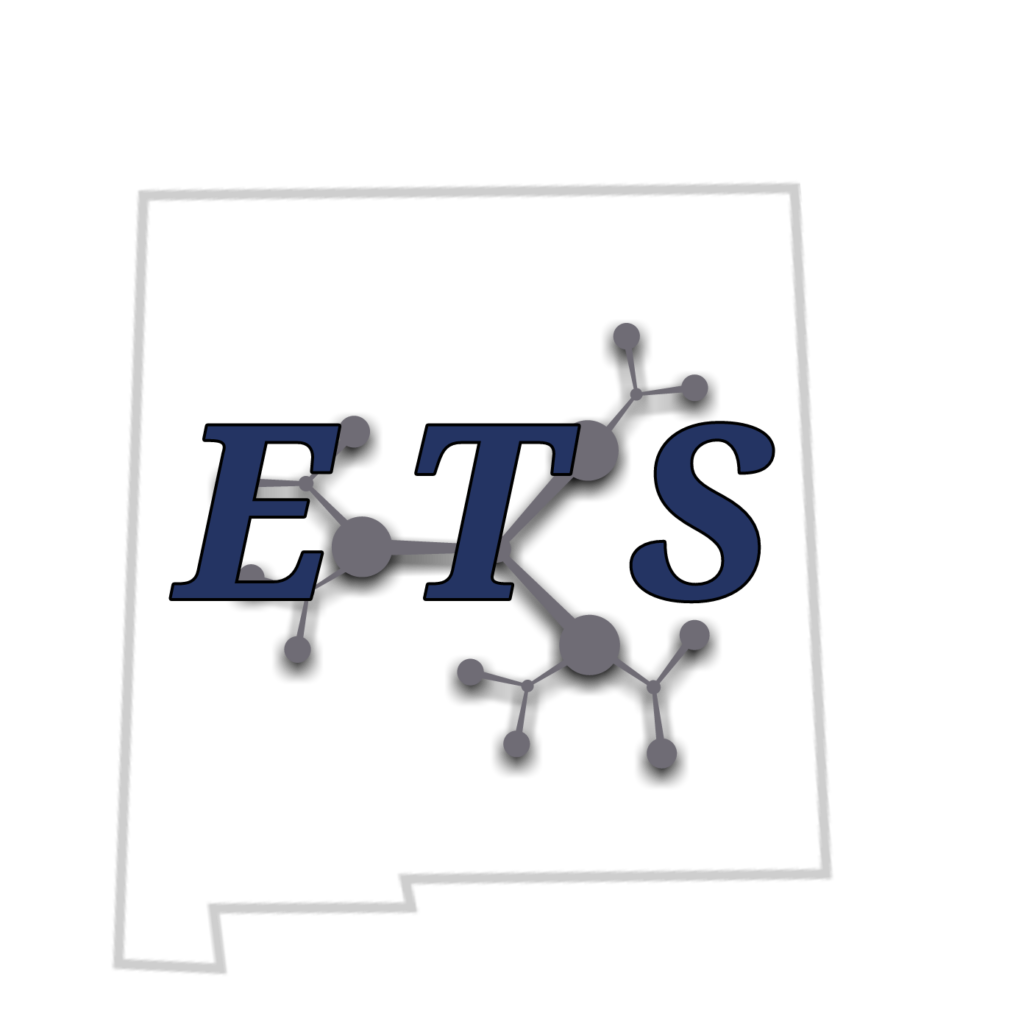 Your content goes here. Edit or remove this text inline or in the module Content settings. You can also style every aspect of this content in the module Design settings and even apply custom CSS to this text in the module Advanced settings.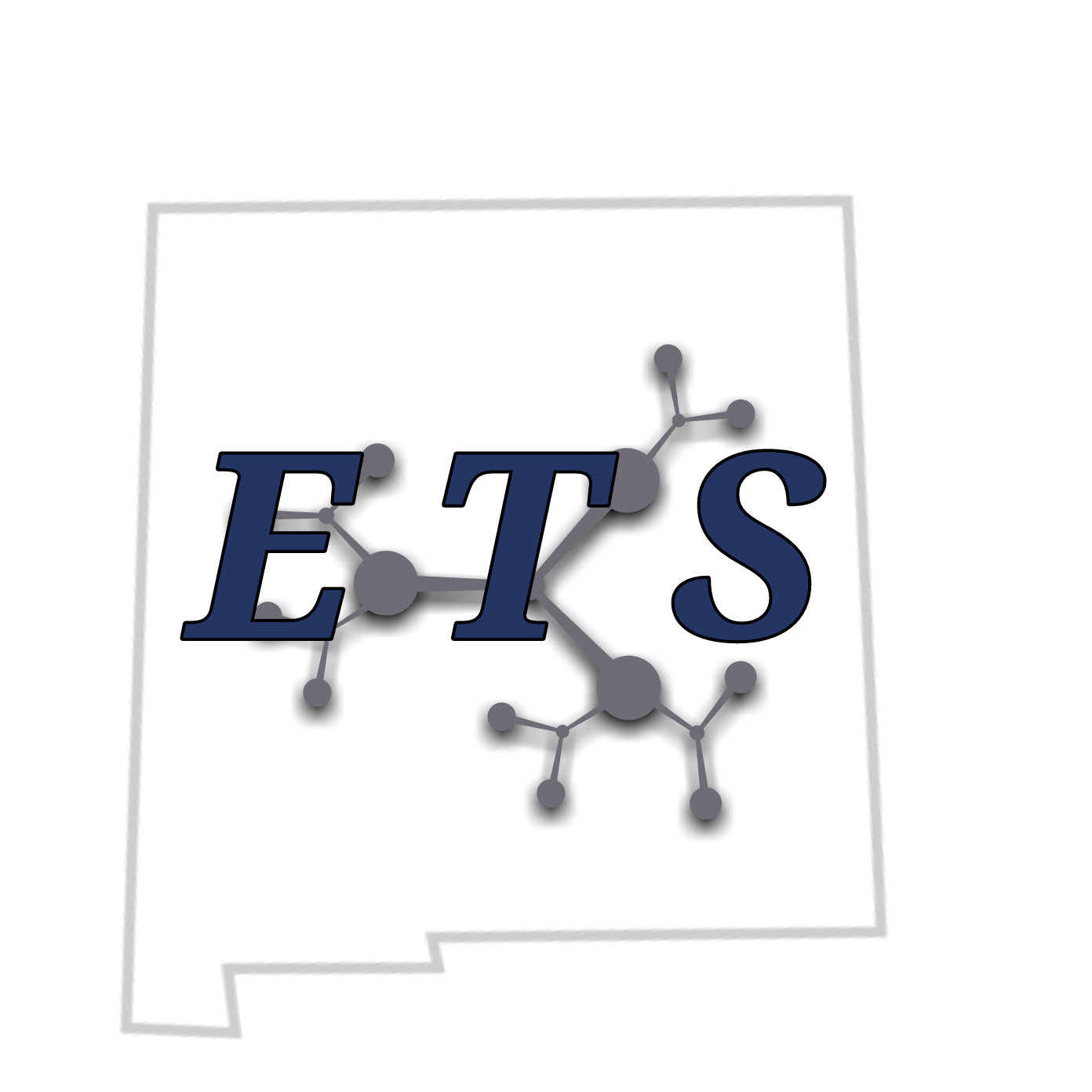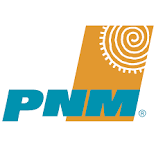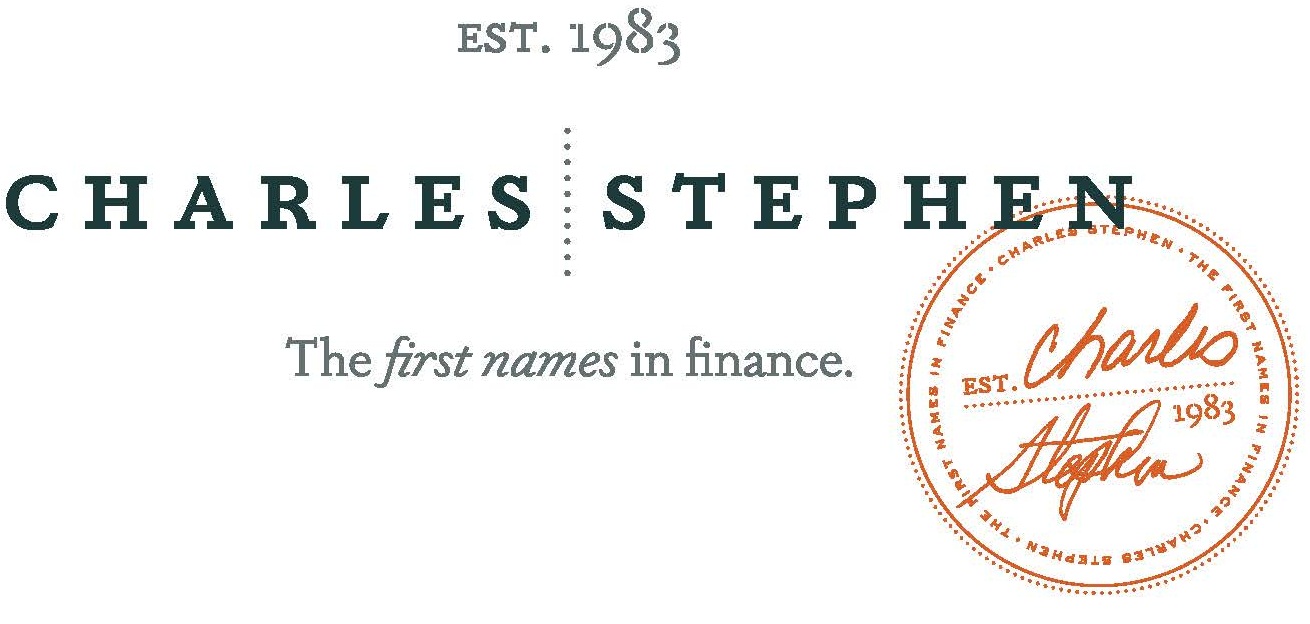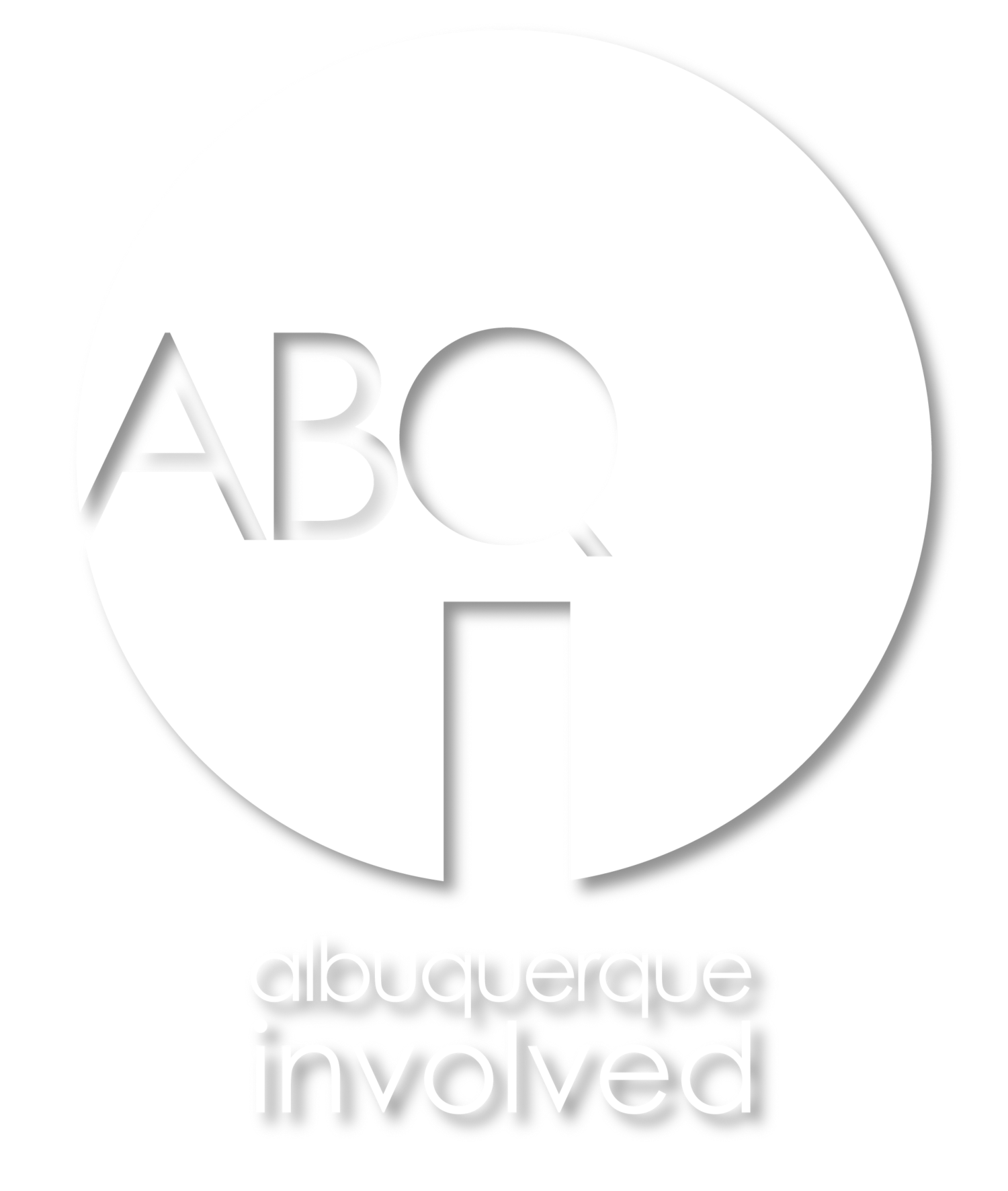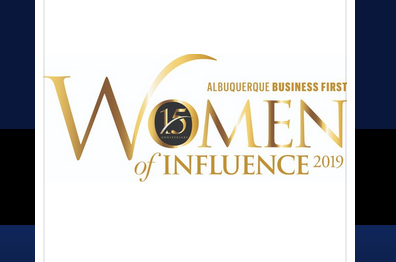 WE ARE NOW THE PROUD OWNERS OF 1518 GIRARD BLVD!
Founder/CEO Debbie Johnson and Board President Tommie Bedford                               1518 Girard Blvd. Albuquerque, NM 87107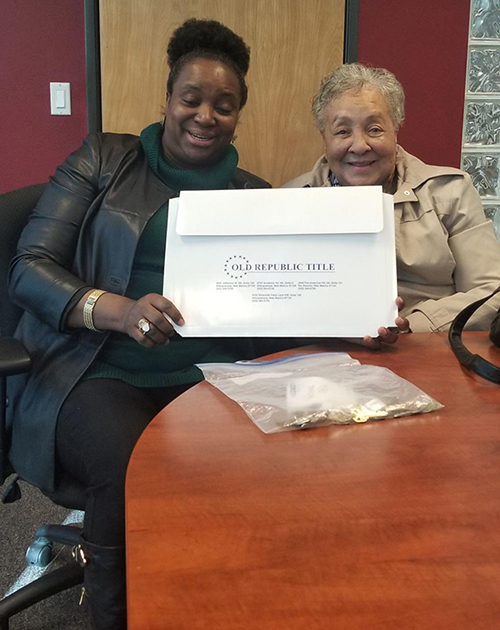 Sew4Real launch of Mobile Mending Unit caught by KOB4 News!
(Middle: link to video; Far right: See our Sew4Real page)
DVRC Leadership Award, October 23, 2018
Debbie Johnson, our CEO, and 6 others received these; what a great honor!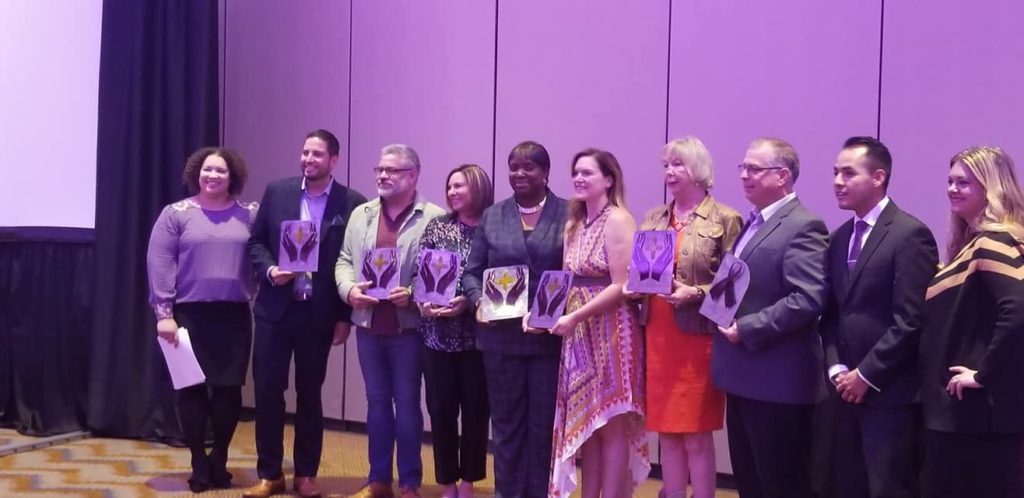 With a special note from our great friend, Governor Michelle Lujan Grisham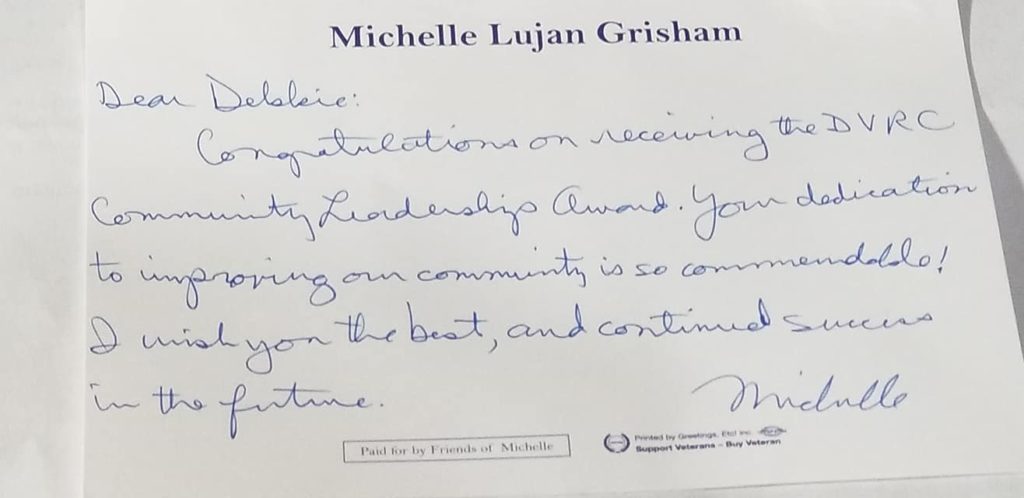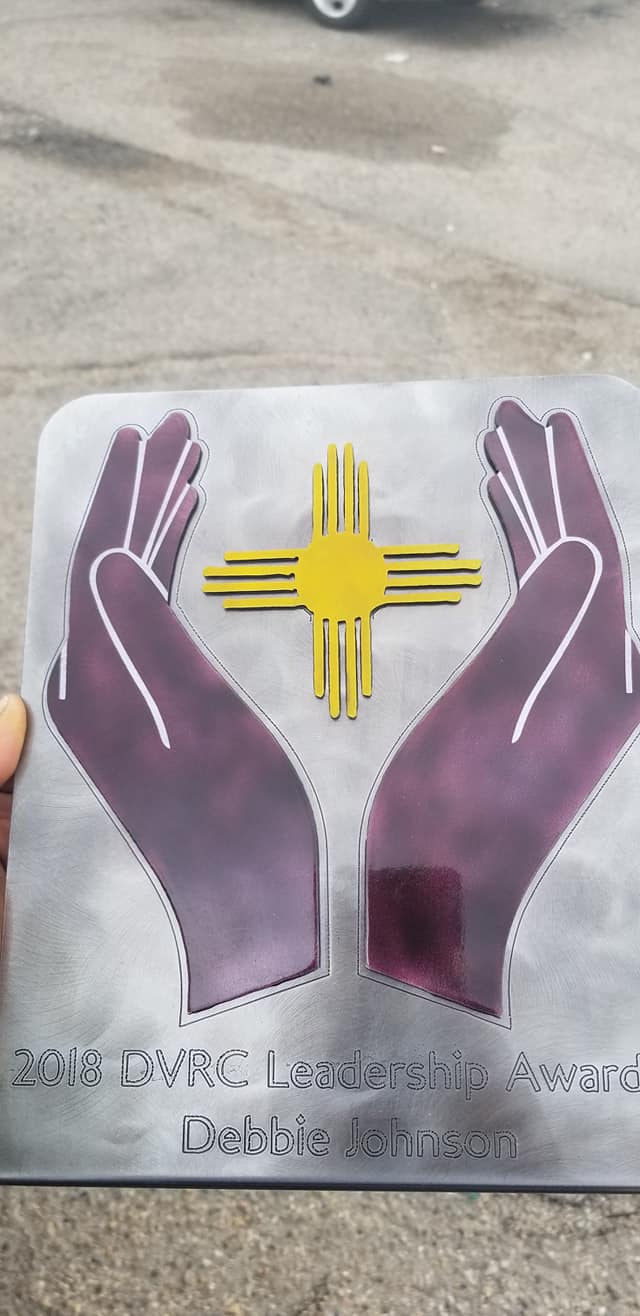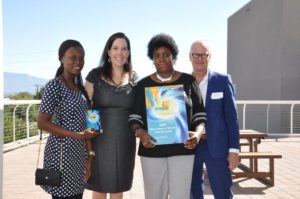 September 2018
CEO Debbie Johnson (center right) receiving a PNM Century of Service Award
Chispa,
Chispa, which means "spark" in Spanish, is an award intended to honor nonprofits that shine a light in the communities they serve, and that accomplish a lot with a little. TenderLove is one of eight organizations recognized by New Mexico Community Foundation | NMCF and NewMexicoWomen.Org  for 2015.
At right:  Volunteers for TenderLove Community Center pose with staff from NewMexicoWomen.org after receiving the CHISPA award
 _____________________________________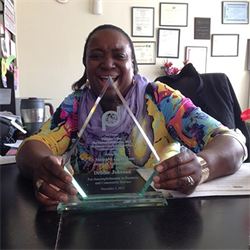 Dr. Mary McCleod Bethune Award
Our Executive Director Debbie Johnson received the Dr. Mary McCleod Bethune Award of Achievement from the National Council of Negro Women Albuquerque Section December 5, 2015

---
 __________________________________________________
TenderLove Community Center                       
©2022