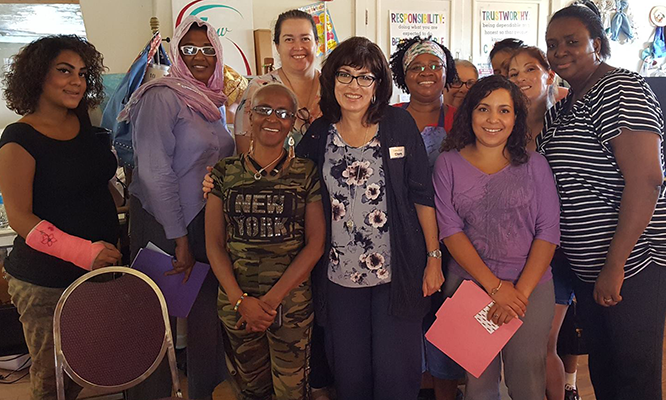 SINCE 2013 TENDERLOVE HAS
Taught sewing skills
to over 60 women per year, with a total of 30 women completing a sewing curriculum that ensures they are able to sew clothing with and without a pattern and perform basic mending and hemming services.
Fed
warm lunches and sometimes breakfasts four days/week for those attending the program that day (up to 18 women per day) and given out food for their families and others whenever available (over 10,000 meals).
Transported
women to and from TenderLove, and to and from other essential services by providing bus passes (over 400) and contributing gas money (over 300 gallons) to those with automobiles . We are looking into the possibilities of loaning bicycles and helmets to those who can use them.
Guided
women in their search for homes, jobs, and legal solutions after traumatic events.
Conferred with
social workers, case workers, jobs programs and temporary housing programs on behalf of our students. About 1/3 of our students have required weekly consultations with case workers.
Referred
women (not just our regular students) to emergency housing and homeless services, financial guidance, legal guidance and social services.
Join us to celebrate
our class of 2016/2017
!